Discover more from Just Reflections
Impactful ideas that challenge my thinking. I hope they'll challenge yours too.
Allow yourself to be bored | Just Reflections - Issue #34

If you've been paying attention to the bottom section of this newsletter then you know that I've been working on losing weight. Late last year I was diagnosed as having high cholesterol so I have no choice but to shed some kilos. I'm not too sad about it, I've really wanted to lose weight for a while and this has been that extra kick that I needed.
I gained a lot of weight because I eat a lot of unhealthy foods in big portions. So to lose weight, I cut down my calorie intake by eating healthier foods in healthier portions. This strategy has worked really well so far as the chart at the end shows.
But if you look at the chart you'll also see something else. There's a pattern where the weight goes down then back up again. You see I have a problem. I eat mindlessly when I'm bored. When I am not engaged in something actively I think about food and before I know it, I've laid waste to a party pack of crisps.
In fact, many times I get into such an intense internal battle when the urges come that I start pacing all over the corridor as I try to talk myself out of it. I try to think about dying of cholesterol to scare myself, I try to picture that "best shape of my life" body that I want. But all this rarely works. My willpower isn't strong enough to win those battles and if nothing else takes my attention I'll eventually yield.
This is very curious though. Why is it that while I understand very well that I need to lose weight, I really want to lose weight and I've wanted it for a while I still eventually stuff my face anyway? And when the urge comes, I usually understand clearly that I'm not hungry just bored but I still feel this intense urge to cover the boredom with something.
I still self-sabotage even while I know fully that I'm self-sabotaging.
Boredom is unpleasant
In a recent study, participants were placed in an empty room for between 6 and 15 mins. They were only given a button that they knew would shock them if they pressed it. And they were asked to just wait out the time with nothing else to do than be with their thoughts. But they could press the button and shock themselves if they wanted to.
So what happened?
Well, 25% of women and 67% of men shocked themselves.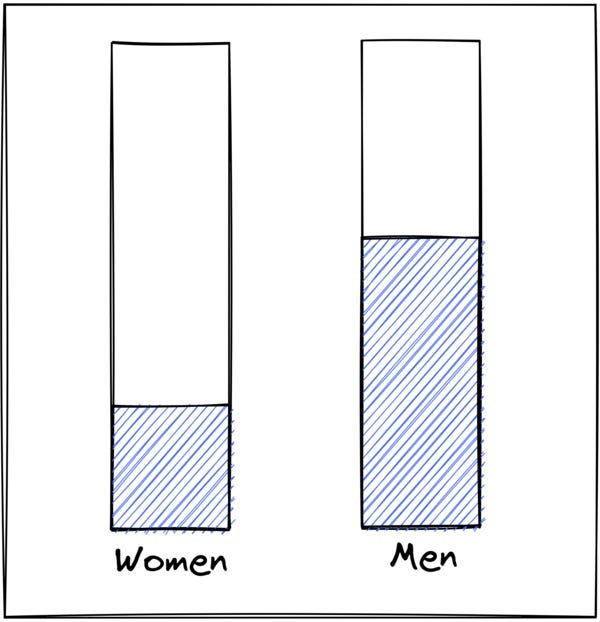 Interestingly, the same participants had previously told the researchers that they were willing to pay to avoid being shocked.
Apparently, they would rather experience physical pain to ward off boredom than to just sit there alone with their thoughts. In fact, when I told my wife about this study she said she would shock herself before I even told her what the study participants did. She wouldn't have lasted the 6 mins. Clearly, they are not alone.
Being bored is unpleasant.
What is boredom?
Contrary to what many of us would say, boredom is not having nothing to do. It's a state of being underwhelmed characterised by a lack of concentration, restlessness and feeling lethargic where none of the options you have available to you appeals to you.
I like this explanation because all of us have been told as kids when we complained about being bored, "well, do your homework then" or "clean your room" or some other unappealing task that doesn't fix the boredom.
Today, there are more ways than ever to avoid boredom and the prime portal to most of them is our phones. With little thought, it's easy to find yourself on the other side of a couple of hours of mindlessly scrolling Twitter, Facebook (uhem Meta), Instagram, Tiktok, Reddit, you name it. We can't even be alone with our thoughts while in the toilet. No place is too sacred.
Are there any benefits from boredom?
The state of boredom is one where your mind is not focused on anything in particular. When you're bored, your mind wanders. That's only natural. Science has shown us that many of our natural responses are adaptations that are actually good for us. So is there anything positive about boredom?
Boredom can spur you to action
Researchers have shown that the mind-wandering associated with boredom is useful for creativity. They gave study participants a random boring task, the most boring one being reading the phone book. Then they asked the participants to be creative and generate as many ideas as possible of what you could do with a plastic cup. Those in the most-bored, "read the phone book", condition generated the most creative solutions compared to less-bored control.
Researchers suspect that we experience boredom because it gives us an indicator of our current state. If you find yourself feeling bored then you know something about that situation isn't working for you. The paradox of boredom is that it makes you feel tired, sluggish and disinterested but it may actually spur you to action and get you to make changes that may be positive for your life.
In the absence of boredom, one could get trapped in unfulfilling situations and miss out on the many emotionally, cognitively and physically rewarding situations lying just beyond their boring circumstance. Boredom is both a warning that we're not doing what we want to be doing and a push that motivates us to switch goals and projects.
I'm sure many people can remember the mind-numbing boredom that came with being locked in the house at the height of the pandemic. It's no wonder that we saw people develop many new hobbies from baking to painting to youtube channels and podcasts. I think many of these creative pursuits started with boredom.
Boredom and altruism
Studies have also shown that boredom may make you more altruistic. In their paper entitled Bored George Helps Others: A Pragmatic Meaning-Regulation hypothesis on Boredom and Prosocial Behavior, Wijnand van Tilburg of the University of Limerick said that bored people feel their acts are meaningless. So they are inspired to engage in meaningful activities like donating to charity or giving blood.
Perhaps the acute sense of aimlessness you experience when you're bored gets out of control and prompts you to consider what you're doing with your life. And the silver lining is that it may trigger you to think about others and what you can do to help them. And that might provide an immediate sense of purpose to a life that might momentarily feel like it's lacking one. Everybody wins.
In fact, we're more likely to seek opportunities to do meaningful, even if unpleasant, things when we're bored. This translates to shocking yourself when in a room with nothing else to do or more altruistic things like giving blood when that is the option available.
Boredom leads people to consider their future and set goals
Studies further show that this aimless state seems to cultivate thoughts about what you want to do with your life. It causes you to think of your life as a story and consider where you want it to go in the future. This is called autobiographical thinking.
When given tasks that didn't really engage them mentally, study participants often thought of the future and their plans for it. Allowing them to engage in an activity that's essential for goal setting. If the brain is constantly consumed with other things, you'll rarely think about the bigger picture and set long term goals for yourself and consider how to achieve them.
This isn't coming from any study, but maybe one reason people struggle to get their minds to calm down when they're trying to sleep at night is that that's the only time their mind has to just think. The whole day, there's no time to just experience their thoughts without a screen being put in front of their eyes.
So the next time you're waiting in line for something, you have a decision to make; pull out your phone and distract yourself or leave it and just be bored. Experience only your thoughts. It seems like an insignificant decision and if you don't give it much thought the obvious decision is to see what's new on your app of choice.
In making that decision, you are easing a moment of boredom. But—if these studies are anything to go by—you are also possibly making yourself less creative, less altruistic, less likely to assess your current state and less likely to set goals for the future. In short, you are the real-world example of someone shocking themselves to avoid the unpleasantness of boredom.
I'll be trying hard to allow myself to just be bored. How about you?
Here's a great talk to close off this week's issue.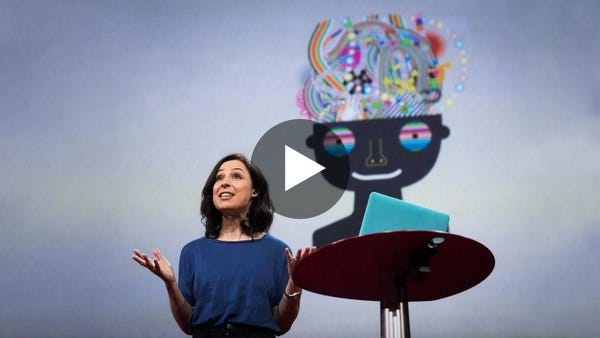 How boredom can lead to your most brilliant ideas | Manoush Zomorodi
That's all I have for you this week. If you like the newsletter, consider sharing it with others on Twitter, WhatsApp or Facebook. Hit the thumbs up or thumbs down below to let me know what you think.
I hope I've given you something to think about this week and I wish you ever-increasing curiosity.
Until next week.
BK
2022 Resolutions:
Weight: Get to 75kg by April 28 and 70kg by July
This week went great, I didn't lose that much weight but I did get back to my routine which I'd started falling off of. Looking forward to crossing that 77kg mark. This morning (I write these on Sundays) I was at 77.3kg.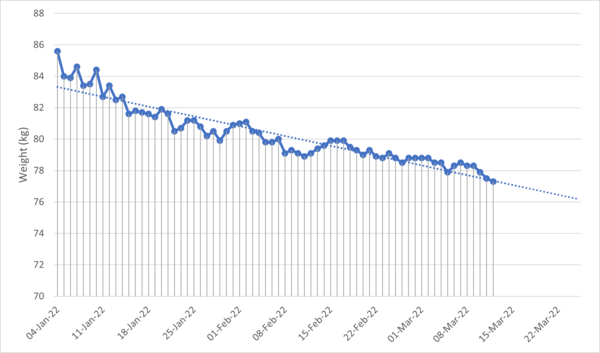 Sleep: Consistently sleep avg. 8 hours per day
Averages this week:
Duration: 6h 57m.

Avg. bedtime: 03:39.

Avg. wake-up time: 10:05.
Business: Start a business in 2022
This week I was working on the other super-secret project that I'm yet to reveal to you guys. All I can say is, I'm excited. Nothing more to say.
Impactful ideas that challenged my thinking.
I have a lot of interests so I'm always learning all kinds of things, some of which really challenge my thinking. In the Just Reflections newsletter, I'll be sharing with you a summary of the ideas that challenged my thinking recently and hopefully they will challenge yours too and we grow together.
In order to unsubscribe, click here.
If you were forwarded this newsletter and you like it, you can subscribe here.
Powered by Revue