Discover more from Just Reflections
Impactful ideas that challenge my thinking. I hope they'll challenge yours too.
Self Awareness | Just Reflections - Issue #41
Hello friends,
A gentle reminder for those who haven't seen it before. If you can, do me a favour and reply to this email with a short "hello!" (or anything else). It will help your email provider to keep this newsletter out of the dreaded Spam and Promotions folders.
Thank you.
Have you ever considered that you view yourself one way but there are many different ways that people around you view you?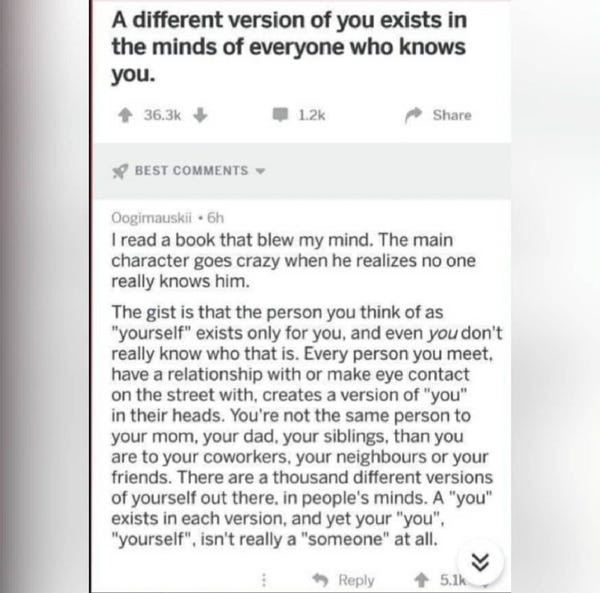 Just like the original poster, this explanation always blows my mind. We spend so much time with ourselves that it's easy to think the way we see ourselves is the way everyone sees us. In fact, often we get angry and frustrated when we're misunderstood, especially on traits of ours that we think are completely glaring. "How could he even think that about me?" we think, or "Couldn't they clearly see that I am …?"
But how well do you know yourself?
Self-awareness is often hailed as some kind of superpower that can make you happier and more successful. Another way to think about self-awareness is, "how much your views about yourself are in touch with what you're actually like?" It's also sometimes called self-knowledge or private self-consciousness. It's definitely something to be desired because people who have greater self-awareness have been found to have better psychological well being, better interpersonal relationships and are better leaders.
Unfortunately, a big hindrance to self-awareness is the fact that we all like to be known as people with lots of positive traits. Our perception of ourselves often overestimates our positives. As a result, we can fool ourselves into thinking that we are something that we are not.
So, how can we develop a better awareness of ourselves?
Let me introduce you to the Johari window.
The Johari window is a technique designed to help people better understand their relationship with themselves and others. It was created by psychologists Joseph Luft (1916–2014) and Harrington Ingham (1916–1995) in 1955. They named their model "Johari" which is a portmanteau of their first names.
(Yes, I also learnt the word "portmanteau" this week. A portmanteau is a word blending the sounds and combining the meanings of two others, for example, motel or brunch or in our case Jo-Hari.)
The Johari window is a useful model to think about the known and unknown parts of ourselves. Basically, a way to understand how you see yourself and how others see you.
Draw a window with four panes. Each window pane represents an aspect of your self-awareness.
The first pane is called the "arena"; aspects of your personality that are known to you and known to others. Maybe everyone who knows you, even for a little bit, can tell that you're outgoing, humorous etc. It's something that is immediately clear to anyone who meets you and you also know this about yourself. I actually can't think of anything about myself that falls into this pane. I almost always default to avoiding confrontation and I spend way too much time trying to figure out how to deal with things without direct confrontation. This can waste a lot of time and it's not always possible and confrontation is necessary sometimes (or so I've been told). I know this about myself and people close to me know it but I'm not sure if others think the same about me.
The second pane is called the "facade"; things that you know but are hidden from others. This is the front that you put on, for example, maybe you're actually more extroverted than you reveal or you actually want to be an artist but you've never told that to anyone or some fears and parts of you from your past. For example, I'm religious, but I rarely speak openly about it. The result is there are people who know me well and have known me for a long time who don't know that I'm religious. Sometimes, when I finally reveal this to them (and move this from the facade to the arena) they say that explains a lot.
The third pane is your "blind spots"; things about you that are known to others but are not known to you. Maybe you have a tendency to fidget or to micromanage people and you don't know it. Have you ever met people who are completely self-centred, for example, you see it and yet they don't seem to realise it? I have been told in the past that I have a tendency to want to be right all the time. In discussions, I can keep pushing a point because I think it's right, not because it objectively is. This is something that I didn't know about myself before but after it was friends and colleagues revealed it to me, I can also see it (and I'm working on it).
The last pane is the "unknown"; things that neither you nor others know about yourself. We know this pane exists because in the past we've had experiences that taught us things about ourselves that neither us nor those around us knew about. This suggests that there are still undiscovered parts about who you are. For example, if you've never lost a close family member, you don't know how well you deal with that kind of grief and no one else knows that about you either.
The next step is to sit with someone who knows you well, or someone you interact with regularly, maybe a friend or a spouse, and you both have to pick from a list of adjectives the words that describe you.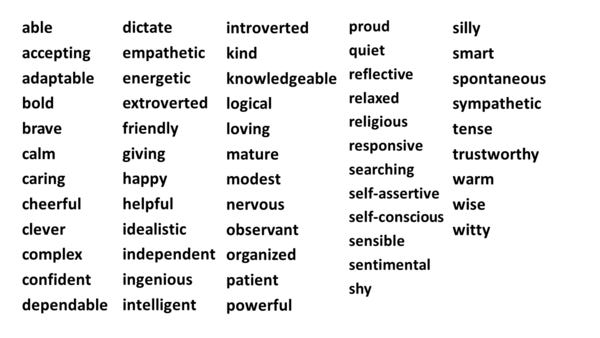 You pick what you think describes you and your friend also picks what they think describes you. Then you map them out on the Johari window according to which ones are the same and which ones are different. This is done as follows:
Arena – attributes that you selected for yourself, and other people also selected for you. These are typically your most prevalent or obvious characteristics and fit in the sentence "Everyone knows that I am X…"

Blind Spot – attributes that others selected for you, but you did not select for yourself. These are subconscious characteristics or external perceptions that you don't identify with. They complete the sentence "I didn't know that I am seen as X…"

Facade – attributes that you selected for yourself, but others did not select for you. These are characteristics that are not externally present or obvious. They complete the sentence "I feel like X… but I don't share that"; "You don't see X in me?"

Unknown – attributes that neither you nor others selected for you. These are irrelevant characteristics for now. They complete the sentence "I don't know whether I am X…" or "I am not X…"
Now, it's important to realise that these lists may vary depending on whether you do it with a colleague from work or with friends and family because we tend to behave differently at work than we do at home.
So to get the most out of the exercise, I suggest approaching it with an open mind. You don't know what you don't know, and often these can be powerful nuggets of wisdom that propel you forward. I also suggest having multiple people fill out your Johari Window. This way, you're able to identify characteristics that appear more than once and identify any outliers. More data is better than less data. Finally, assume positive intentions.
So what should you do with your Johari window? You should aim to increase the arena pane as wide as possible. There are three ways to achieve this; self-disclosure, seeking feedback and trying new experiences.
Sharing more about yourself, or self-disclosure, will decrease the size of your facade pane and move more things to the known which can lead to deeper, more authentic relationships. Asking for feedback will help you reduce your blind spots as people reveal aspects about you that you didn't know. And finally, the exposure from trying out new things can help you discover things that no one could have foreseen about you. Some people say they have no hobbies and they don't know what they like and asking people close to them has never helped either. The solution for them could just be to keep trying new experiences.
Now, I know that it's hard to share things about yourself and to ask for feedback. But consider that if the way others see you differs from the way you see yourself, It can inhibit the growth of your relationships as people don't know you for who you authentically are. And you can continuously feel misunderstood because of that misalignment in perceptions.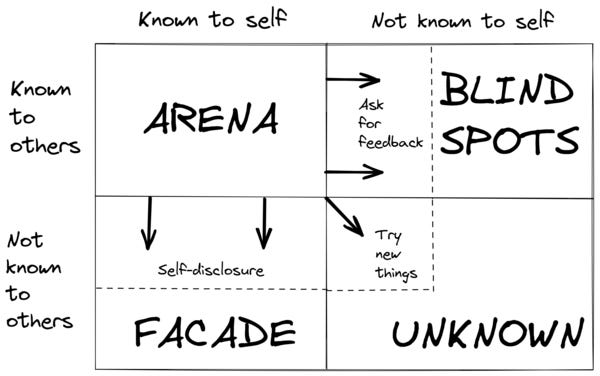 Understanding what people know about you gives you a chance to observe yourself from a different perspective. That can give you a chance to find out things about yourself that you didn't know.
If someone says you have a green tail, the person is crazy. If two people say you have a green tail it's a conspiracy. And if seven people say you have a green tail, you turn around and look. It's not that they are definitely correct. It's that they have a reason for thinking they are and you need to explore that reason.
You can do the Johari window online here, all you have to do is pick the adjectives that you think describe you, then provide your name and you'll get a link that you can send to your friends, family and colleagues. And you can watch your window change as they put in their responses. If you know me, then start by doing mine here.
Give it a shot. You may find out that you don't know yourself as well as you think and the Johari window might help you gain some greater self-awareness.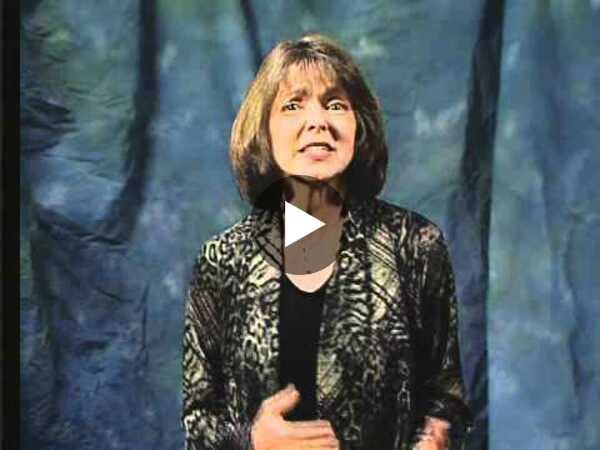 Johari Window in Interpersonal Communication
That's all I have for you this week. If you like the newsletter, consider sharing it with others on Twitter, WhatsApp or Facebook. Hit the thumbs up or thumbs down below to let me know what you think.
I hope I've given you something to think about this week and I wish you ever-increasing curiosity.
Until next week.
BK
2022 Resolutions:
Weight: Get to 75kg by April 28 and 70kg by July
Well, I fell short of the first milestone. But I still have a chance to meet the second one. I just need to stop making excuses and do better. We'll see how it goes in these coming three months.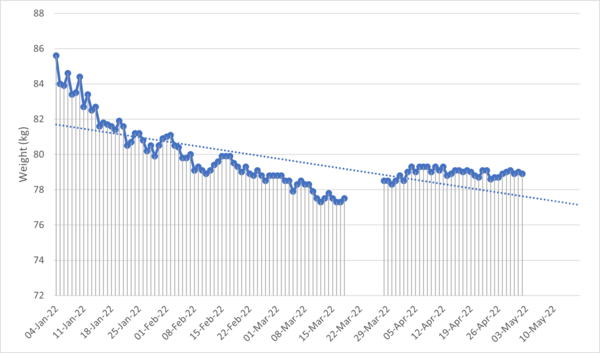 Sleep: Consistently sleep avg. 8 hours per day
Averages this week:
Duration: 4h 50m.

Avg. bedtime: 03:50.

Avg. wake-up time: 09:21.
Big drop here this week. This isn't completely accurate because this week there were a few days I slept without my sleep tracker. Anyway, let me stop the excuses.
Business: Start a business in 2022
Still fixing some issues that came from user feedback and adding the feature requests for dealbase.africa. The response here has been great and many potential partners are still reaching out. We'll see how things go.
Impactful ideas that challenged my thinking.
I have a lot of interests so I'm always learning all kinds of things, some of which really challenge my thinking. In the Just Reflections newsletter, I'll be sharing with you a summary of the ideas that challenged my thinking recently and hopefully they will challenge yours too and we grow together.
In order to unsubscribe, click here.
If you were forwarded this newsletter and you like it, you can subscribe here.
Powered by Revue