Discover more from Just Reflections
Impactful ideas that challenge my thinking. I hope they'll challenge yours too.
The Best Life Lesson My Father Taught Me | Just Reflections - Issue #28

I'm a little late to the party but my wife and I watched the movie King Richard this weekend, and I loved it. I'm late because everyone I had spoken to before didn't give it a good review. So, I got surprised when, after the movie, I checked its score on Rotten Tomatoes. I should stop listening to those people's opinions about movies.
(Potential spoilers ahead)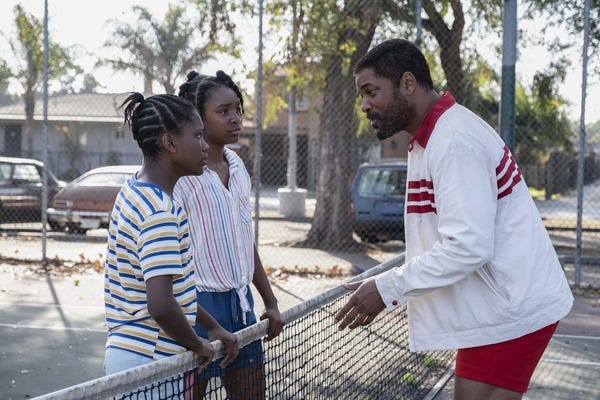 From left, Demi Singleton as Serena, Saniyya Sidney as Venus and Will Smith as the future tennis stars' father, Richard Williams, in "King Richard." Credit: Chiabella James/Warner Bros
Anyway, on this thrilling biopic, a grizzled Will Smith plays the oft-criticised Richard Williams, father and coach of tennis stars Venus and Serena Williams. The story told from the perspective of Richard Williams does a great job of vindicating Williams' — often described as controversial, outspoken and provocative — as he works hard to execute his ambitious and quite visionary 'plan' for his daughters conceived before Venus and Serena were born.
I had many moments of awe and frustration with his ways. It left me with a lot of respect for the patience of all the people who had to work with him. Especially Rick Macci, portrayed by Jon Bernthal. But, at the top of what worked on this movie is that Will Smith completely owned this role. He was excellent! He brought out the dedicated provider, arrogant coach, charming negotiator and stubborn father. He also showed how all those traits come together to make up a human being who has complexities. And the performances of Aunjanue Ellis playing Oracene Price, the mother of the Williams sisters, and Saniyya Sidney and Demi Singleton as Venus and Serena Williams complimented him really well.
There is nothing haphazard or sloppy about "King Richard," and it succeeds because it has a clear idea about what it wants to accomplish. — A. O. Scott, The New York Times, Nov 18 2021
That said, the movie has its flaws. For one, Richard does some infuriating things, but the movie never suggests that he was wrong. Sure, many of his decisions worked out in the end, but there's no way he could have known beforehand. It's also quite long, so brace yourself. Let me stop raving about it now. If you haven't seen it yet, check it out!
The lesson
Watching this movie made me think a lot about my father. We all have heroes in life. Sometimes it's people we don't know, like Barack Obama or Elon Musk. Sometimes it's sports personalities like Tiger Woods or LeBron James. And sometimes it's family members. I've had some great mentors in my life. But, at the very top of the list of people who have shaped me, my approach to life and my perceptions of leadership and relationships with people is my dad.
My dad is a doctor of sports science. He's a man who's worked with a strong passion. As far as I can tell, it has never been for the applause or money or anything like that. It has always been to have a true and meaningful impact on as many people's lives as possible. I've learnt so much from my dad. He's been a great mentor. I got my artistic talent from him. I remember him showing me his old sketchbooks. I was so fascinated. He's the one who taught me to play chess. He had this bookshelf with all kinds of books from which I first got fascinated with math, science and languages. He's an inspirational man, and I learned so much from watching him and hanging out with him.
Anyone who knows my dad understands why I think of him whenever I watch sports dramas. No one loves sports like that man. Growing up, I remember he'd travel all over the country for races and other sports events because of his coaching. Every weekend, he was always at this place or that with his athletes. Olympics time or athletics world championships time were a kind of ritual at home with everyone huddling around the TV watching every single event of every single sport. Capped, of course, with the track and field events.
Even in my earliest memories, my dad was already an athletics coach at Sparrows Athletic Club, a club he founded (I've never really asked about the story of Sparrows but it was a part of a sizeable chunk of my childhood). Through the years, he worked at various places. When he identified talented kids from underprivileged backgrounds, he helped them the best way he knew how; by taking them in and giving them a chance to build a career in sports. And availing to them opportunities to grow a sports career at Sparrows.
So I have many siblings, and I grew up around athletes. All who passed through the hands of my parents. And because we lived together, I would sometimes go with them for training early in the morning or in the evenings. I'd mostly just watch and fool around, but that was my world, and I have many fond memories of those times. I sometimes think one of my dad's biggest trials in life was being given a son who not only isn't good at any sport but isn't even that interested in sports.
Anyway, what I'm saying with all this is that many people got an opportunity at life through sports via the benevolence of my father. I'd be remiss if I don't mention that this wouldn't at all be possible if he didn't have an equally kind-hearted wife, but that's a story for another day.
As an adult, I understand that underneath that huge veil of sports passion, my dad is really just passionate about people and about giving them better opportunities at a better shot at life. That's a lesson that's deeply entrenched in me, that I carry with me all the time. Whatever you love doing, whatever you're passionate about. If it's driven by a love for people and for making their lives better, nothing will ever be enough to stop or deter you. That's what I saw in Richard Williams that reminded me of my father; a huge passion and unrelenting determination to help others win at all odds. His daughters, in this case.
Whatever you love doing, whatever you're passionate about. If it's driven by a love for people and for making their lives better, nothing will ever be enough to stop or deter you.
That idea is one that has shaped who I am. Whoever I am and whatever I have is for the service of people around me. My success should not elevate me alone. So I always do my best to always avail my strength, time and resources to the service of others, even where it impedes my comforts. And this is something I carry with me everywhere. If we don't live a life in service to other people, then we live a wasted life. If our achievements only serve us, then we are not living up to our highest calling. We should always actively look for opportunities to be the stepping stone that people need to reach their full potential. Not just passively waiting for our help to be requested.
Now, my father has many flaws, but for all his flaws, he has been a shining beacon for all those who need to find their way. Committing his life, resources and strength to the pursuit of elevating all who are within his influence. I wouldn't be who I am today if it were not for his hard work and passion. I hope to be at least half the man that he is.
K. Austin Collins' closing statement on his review of King Richard in Rolling Stone magazine eloquently articulates my thoughts:
Why King Richard, then, when the story of interest to most people is probably that of his daughters, tennis's reigning queens? This is the kind of movie to question the difference. Yes, it says, these women are once-in-a-lifetime athletes. But what are we, the movie asks, if not products of the sacrifices, flaws, and sky-high aspirations of our parents? — K. Austin Collins, Will Smith Makes a Racket as Venus and Serena's Dad in 'King Richard'
Indeed,
"… what are we if not products of the sacrifices, flaws, and sky-high aspirations of our parents?"
My story cannot be told in completion without first telling the story of Dr Bhekuzulu Khumalo.
What's the biggest lesson you learnt from your father? Please let me know.
That's all I have for you this week. If you like the newsletter, consider sharing it with others on Twitter, WhatsApp or Facebook. Hit the thumbs up or thumbs down below to let me know what you think.
I hope I've given you something to think about this week and I wish you ever-increasing curiosity.
Until next week.
BK
2022 Resolutions:
Weight: I have been weighing myself every day since the start of the year, so I thought that would be a better way of illustrating my progress.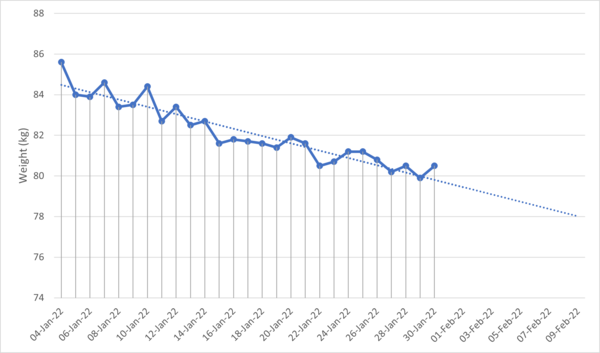 If this trend is anything to go by then the target weight for next week is 78kg.
Sleep averages this week:
Duration: 7h 15m.

Bedtime: 03:32.

Wake-up time: 10:03.
Business: I didn't do any work on Pro-search this week. I did, however, get invited to some presentations hosted by the African Angel Academy where some interesting startups in Africa were presenting their pitches to some early-stage investors. That's something I'm keenly interested in so I was super thrilled.
Impactful ideas that challenged my thinking.
I have a lot of interests so I'm always learning all kinds of things, some of which really challenge my thinking. In the Just Reflections newsletter, I'll be sharing with you a summary of the ideas that challenged my thinking recently and hopefully they will challenge yours too and we grow together.
In order to unsubscribe, click here.
If you were forwarded this newsletter and you like it, you can subscribe here.
Powered by Revue